We are moved our Musical Instrument department to a newly built=out sapce in our store, Upstairs @ The Accents On Us in our new record store - jbBop Records - All your Music Needs in One Place!
Vintage Instruments for the Player and Collector
Consignments Welcome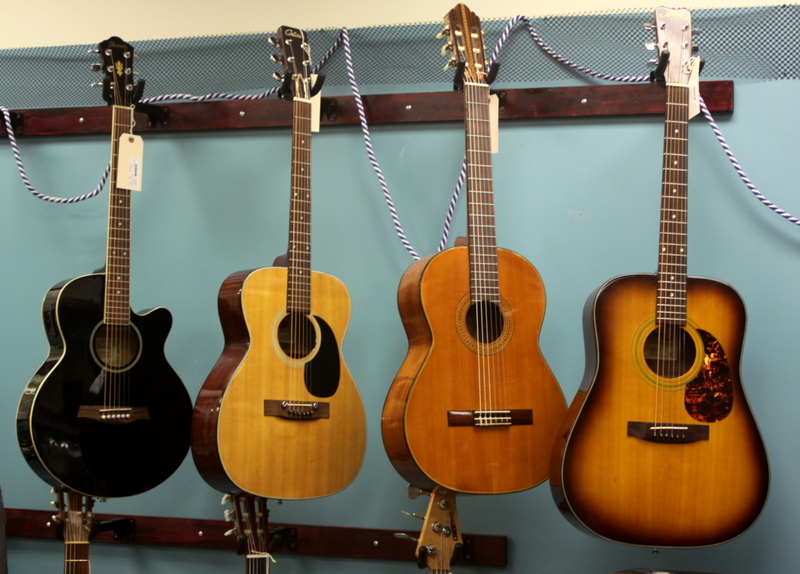 Stop by to see our constantly changing selection of vintage acoustic and acoustic/electric guitars, basses, stringed instruments, keyboards, winds, percussion, and amplifiers for sale in our store and on the web through our eBay web store. We have collected over 100 wonderful vintage, classic instruments and have restored them to excellent playability. We are offering a beautiful vintage collection that is very affordable ($75-$500 range) for both the new player and veteran. All instuments offered are re-strung and setup by our staff. We perform the following on instruments we have collected and are offering in our store:
perform minor seam, ding and scratch repair
finish restoration
fret dressing
bridge and nut replacement - custom, hand-made from bone stock
pickup repair
tuning machine repair/replacement and neck repair/straightening
re-stringing (mostly new high-end D'Addario) and professional setup
Come in and visit our Music Department and try out one of our vintage treasures. To see some of the items we have in our store, visit our Musical Instruments section under our Accents link above. We welcomw you to come in to try out one of our vintage beauties.
Just a sample of some of our offerings:
| | |
| --- | --- |
| Fender Gemini IV White Acoustic (1980s) | $180 |
| Ibanez Vintage Japanese Acoustic | $225 |
| Giannini Brazilian Classical Model 6 (1960s) hand-made | $250 |
| Vincente Tatay Spanish Classical (1960s) hand-made | $225 |
| Cort Stenberger Bass Guitar (1980s) headless | SOLD -$350 |
| Crate (Ampeg) Electra P-Bass (1970s) | SOLD- $165 |
| Hondo "Lawsuit" Les Paul Solid Body (1970s) | $250 |
| Vintage Epiphone Dreadnaught Case | $80 |
| Kay Mandolin (1920s) | $300 |
| Epiphone EP100R 40W Guitar Amp with Reverb (1970s) | SOLD-$125 |
| Vito Kenosha Alto Saxophone (1940s) | $300 |
We are now accepting consignment of vintage instruments for sale through our store and web sites. Restoration services are available for a nominal fee that will be taken off the final sale price. Drop by our store or send us some pictures of your instrument for evaluation for consignment using our Consignment Request Form If your instrument needs some of our restoration services, please note the issues with the instruments and send some details photos of the area of concern. Consignment will yield you more money for your treasured instrument than selling it to the "big box" retailer or listing it on eBay or Craigslist without proper restoration and setup.